Gideon's Bakehouse: What You Need to Know
You've, no doubt by now, heard about this new cookie place in Disney Springs. Gideon's Bakehouse came on the scene in January 2021 and people have been singing their praises ever since. I mean, a ½ pound cookie? Yes, please! Because of the popularity, there should be some strategy involved if you plan to visit. In fact, I have 3 pieces of info that I think everyone needs to know.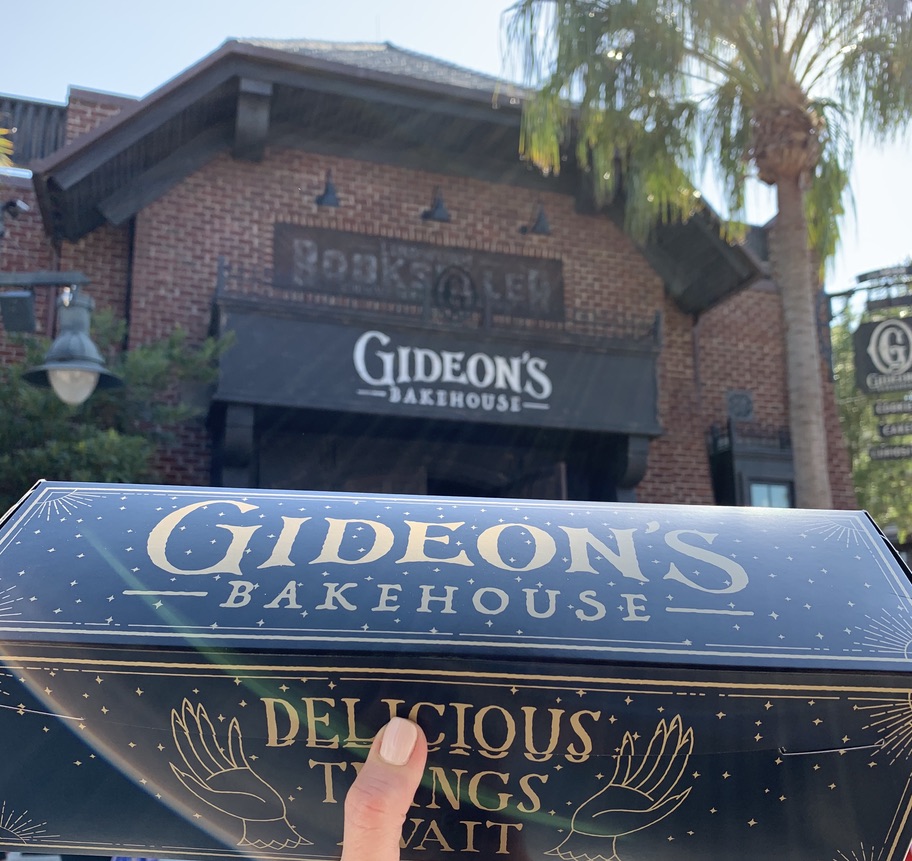 The Line
This is probably the #1 item for anyone interested in visiting Gideon's Bakehouse. Because it is a must-do for so many, the line can become VERY long. There really isn't physical space for such a long line, so Gideon's uses a virtual queue most days.
My advice: head straight there when you arrive at Disney Springs. If it isn't crowded enough for a virtual queue, you will be allowed to line up and enter the bakery. If there is a virtual queue, though, there will be an employee or two outside with tablets taking your contact info. They will take your name and phone number and give you an estimated wait time.
We visited on a Monday evening during Spring Break, so our wait time was estimated at a little over 3 hours. Don't be put off by this, though. That was actually the perfect amount of time for us. We had to stand in line for a bit to enter some stores such as World of Disney. Then we shopped for a bit and ate dinner at Wine Bar George (Yum-o, if you're curious). Just as we were walking out of the restaurant, we got the text that it was time to head to Gideon's. When we arrived, we checked in at the return line and waited maybe 5 minutes in a physical line. Even though a 3-hour wait sounds unbelievable, we didn't actually wait any time at all because we were busy the entire time.
Decor and Theming
I tried to avoid too many spoilers about the actual bakehouse prior to visiting. I was rather surprised at how small the space is, but this explains the need for the virtual queue. It has a very steampunk feel - very dark, old books on bookcases all around the room, and very exaggerated artwork on the walls. The areas of the counter around the registers and display cases were even made to look like flames flickering and smoke filtering up. If this is your aesthetic, you will LOVE the theming.
Menu and Favorites
Now for what you REALLY want to know - the cookies! Gideon's Bakehouse is most known for their ½ pound cookies, but they also have cakes and drinks like coffee and specialty soda. There are items that are on the menu each and every day, and some items that get rotated each month or have a limited amount each day. I'm a huge red velvet cake fan so I was tempted, but I decided to focus on the cookies this time around since they are the star of the show.
Don't judge, but I got myself a nice sampling: I went with the original chocolate chip x2, peanut butter crunch, and pistachio toffee dark chocolate. All of these are available each day, as well as the triple chocolate chip and cookies & cream. I mean, I'm downing ½ pound cookies, but I did draw the line at these chocolate-coma options!
My husband is a tough-to-please foodie, so I'll slip in his ranking on everything, too. I have ZERO regrets about my choices. I love anything peanut butter, so I started with the peanut butter crunch. This was alllll peanut butter. It tasted like a traditional peanut butter cookie, but beyond. It was even topped with some peanuts to help give a bit of crunch. He gave this a 7, but I say 8.5.
Next, was the pistachio toffee dark chocolate. This was my husband's request and he loved it so much that he already requested that I bring home TWO on my next trip. He gave this a 10, and I say 8 just because I'm not a toffee person.
Finally, the original chocolate chip - holy cow, it was fantastic! You could taste the cookie dough...not just the chocolate chips, which helped make this my favorite. They add a tiny bit of salt on the top of the cookie that really helps bring out the chocolate. He gave this an 8, but it was a 10+ for me.
They also have some amazing cold brew coffees. The Peanut Butter Iced Coffee was so smooth and not overly peanut buttery. Delicious!
All in all, this was a great experience and I recommend it to any cookie/cake/coffee lovers - even if you have to wait. Disney Springs has so much to offer, so you don't really feel like you are waiting. A couple of tips:
Bring containers for transporting cookies home. I made mine last most of a week and even brought some home. I put them in food storage containers the night I bought them to help keep them fresh and from getting broken in my luggage.

Gideon's Bakehouse recommends that you DO NOT heat the cookies. That kind of goes against what you think, right? Wouldn't you want to heat it and have ooey gooey chocolate chip cookies? Nope - they know what they are doing so trust their recommendations!
If you are thinking of a trip to Walt Disney World and want more tips and tricks like this, fill out THIS form we can get the ball rolling on making a trip a reality for you.