Plussing It:
Travel Agent Marketing Resources Membership
"Plus" your agent game. More followers. More engagement. More leads. More sales.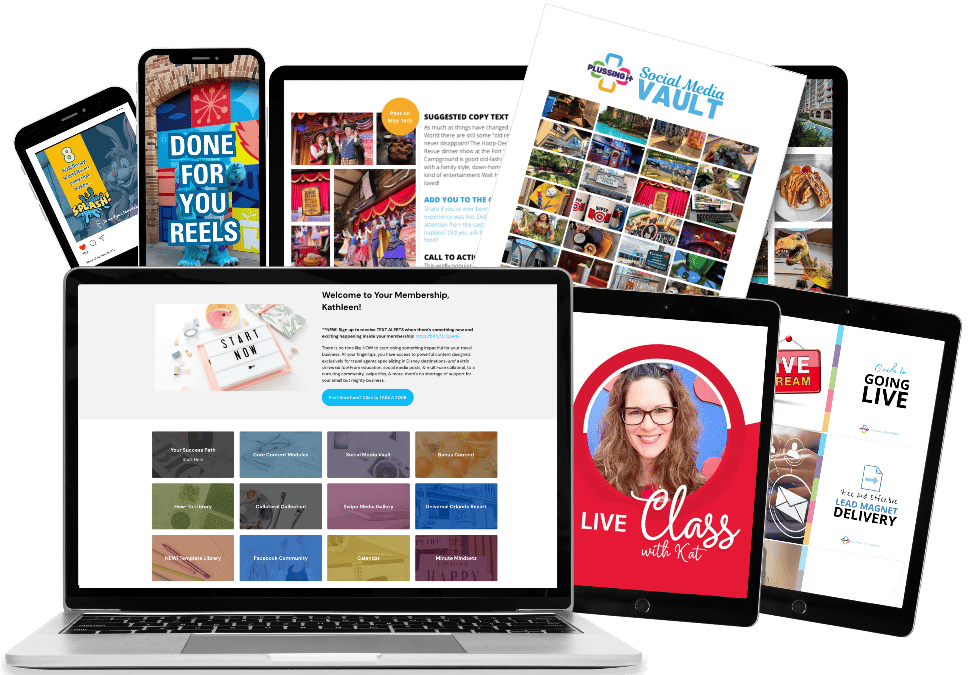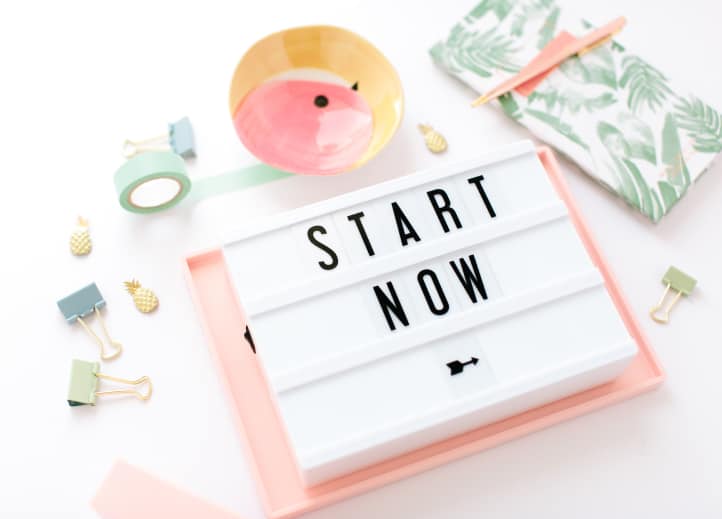 More followers. More engagement. More leads. More sales.
Time-Saving Resources To Show Up On Social Media and Grow Your Business! Exclusively for travel agents specializing in Disney and Universal destinations who want to consistently grow their audience, get more leads and close more sales.
The Plussing It monthly membership provides travel agents that specialize in Disney and Universal destinations with a done-for-you social media posting plan for each month, self-paced core training in sales, marketing, and business development, and monthly bonus content designed to expand their audience and increase sales.
What Agents are Saying About Plussing It
Scroll through the comments below and hear from a few Plussing It members, all travel agents or agency owners specializing in Disney and Universal destinations, to help decide if membership is right for you.
"Plussing It has been an amazing tool to help me and my agents up our social media game! Not only have the done for you monthly social media posts been extremely helpful for daily posts. But the core modules that take a deep dive into how to successfully communicate with your clients have been extremely beneficial. Plus all the BONUSES! Reels, carousels, Canva tutorials, done-for-you client collateral and live training. I highly recommend it to any travel agent who wants to up their social media game. As an agency owner, I offer an initial membership to all of my agents. It's THAT GOOD!"
Leigh R.
Travel Agency Owner
"WOW! Kat, you are the queen of communication and Plussing it! I am so happy to be learning from you!!!! "
Melissa L.
Travel Agent Specializing in Disney Destinations
"I just joined this community and I can already tell you I'm not going anywhere. I have been struggling with interaction in my group, spending countless hours sitting in front of my computer trying to decide what to post and hoping that it would some day get easier. Between work, distance learning with 3 kids, trying to keep up with my Facebook group, I didn't know how I was going to manage it all. With Kat's help, I now have a week's worth of posts scheduled! Thank you!!"
Jessica H.
Travel Agent Specializing in Disney Destinations
"The Social Media Vault posts and Bonus Content are great! Definitely have noticed the activity on my page as well as in my group increase since posting last month. How do you do it? Learning something new every day! Thanks Kat!! "
Lindsay S.
Travel Agent Specializing in Disney Destinations
"The support from Kat, is extraordinary. Since I've joined, my growth, client communications and social media posts have improved greatly and I could not have done it without the help of Plussing It!"
Carolyn T.
Travel Agent Specializing in Disney Destinations
"Time-saver. Game-changer. Difference-maker. The ideas shared not only give me valuable content but also get my creative juices flowing! My membership in Plussing It has helped my business thrive in good times and, more recently, difficult times. I have a mentor in Kat who keeps me inspired and motivated! It's about more than selling. It's provided a way for me to truly be there for the people I influence. The support we receive from Kat has helped me stay motivated and encouraged to keep on keepin' on in this business. "
Heidi E.
Travel Agent Specializing in Disney Destinations
"If you've ever found yourself at a loss for what to post in your Facebook groups, on business pages, Instagram or how to keep folks engaged, you will not regret this program. Plussing It is an absolute game changer and life saver!"
Christina S.
Travel Agent Specializing in Disney Destinations
What's Included in the Membership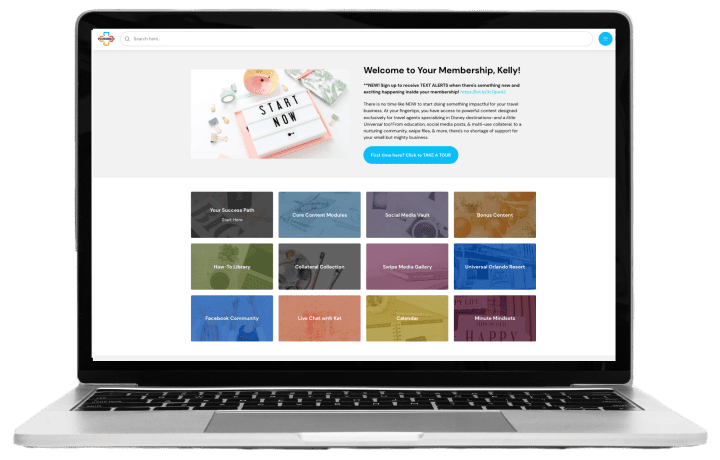 Five Core Training Modules
Five in-depth video modules that dive deep into what traits, actions and procedures that make a successful travel agent.
Complete these modules at your own pace and refer back to them as often as you like.
The Social Media Vault provides a full month, EVERY month, of done-for-you social content to easily and effectively show up for your audience and sound like the PRO you are.
A photo with customizable captions and THREE CONVERSATION TOPICS for each day of the month, designed to increase engagement, gain trust among your audience and grow your business is what the Social Media Vault is all about!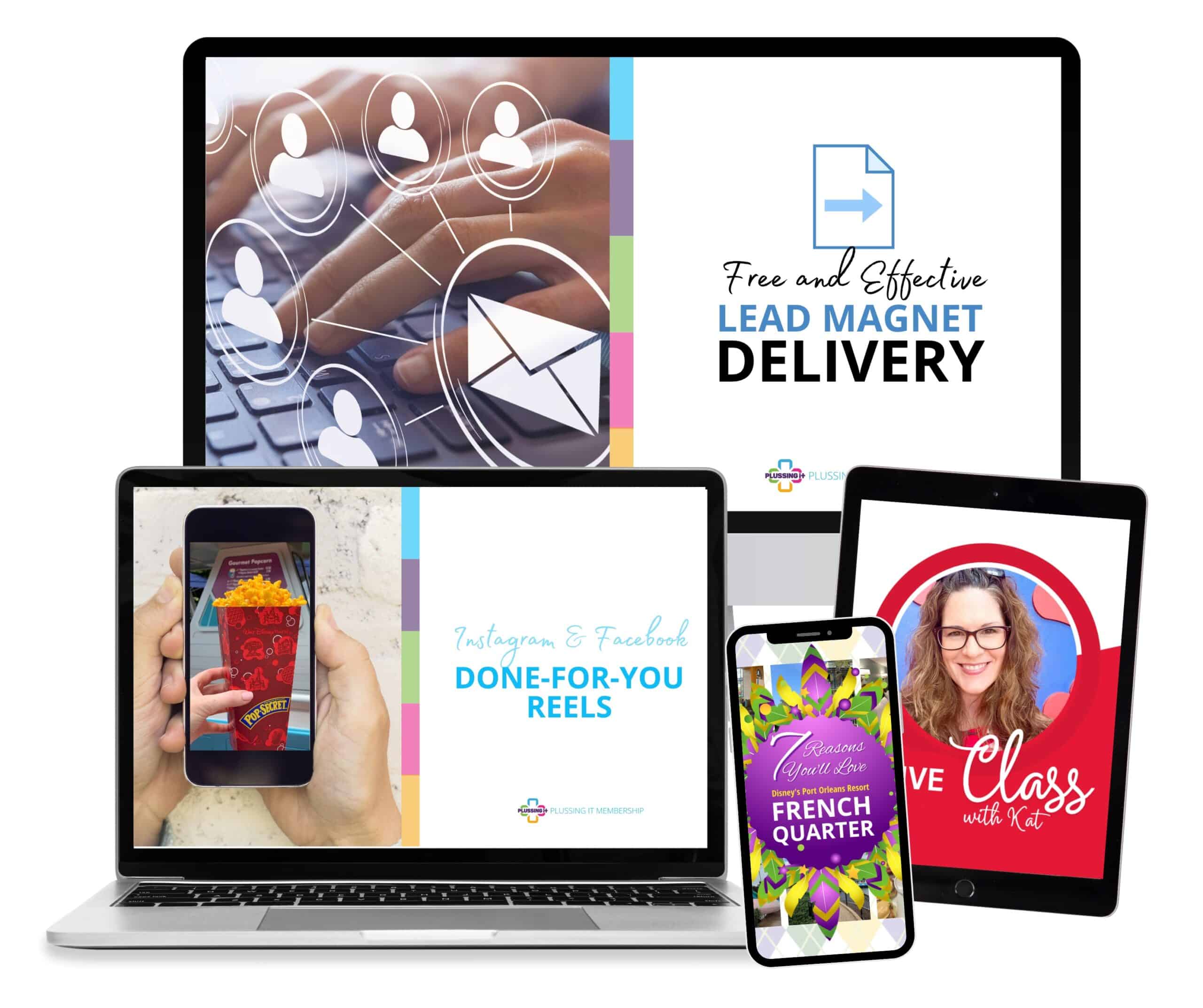 Bonus Monthly Deliverables
Each month, the Bonus section includes several additional high-value pieces of content.
You will not believe the value of the content you'll receive each and every month.
Private Facebook Community
Exclusively for members of Plussing It, our Private Facebook Community is a safe place to bounce off ideas, ask questions or even double-check yourself without judgement. It's a meeting place for members to forge friendships and even collaborate on projects.
Q&A and live training sessions with Kat rounds out the comprehensive, supportive and enriching membership experience. We can't wait to welcome you inside!
...Is Plussing It for YOU?
Do you NEED RESOURCES (photos/videos) for posting on social media accounts?
Do you feel overwhelmed with social media, but know it's essential to your business growth?
Do you sit staring at your screen wanting desperately to post something to your audience but don't have a clue about what to say or how to say it? Sometimes wasting hours of time?
Do you consistently post to social media but get very little interest or engagement on your posts?
Would you like to develop a stronger connection with members of your audience and build a trusting relationship with them?
Would you benefit from being a part of a community that nurtures, encourages, supports and celebrates its members?
DO YOU WANT TO SELL MORE DISNEY AND UNIVERSAL VACATIONS?
Want to hear real, honest feedback on the Plussing It Membership experience? Click the button below to chat with a member!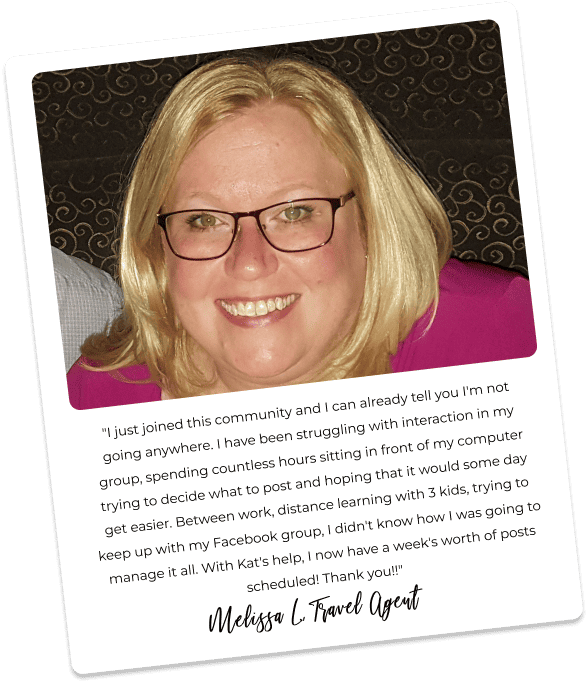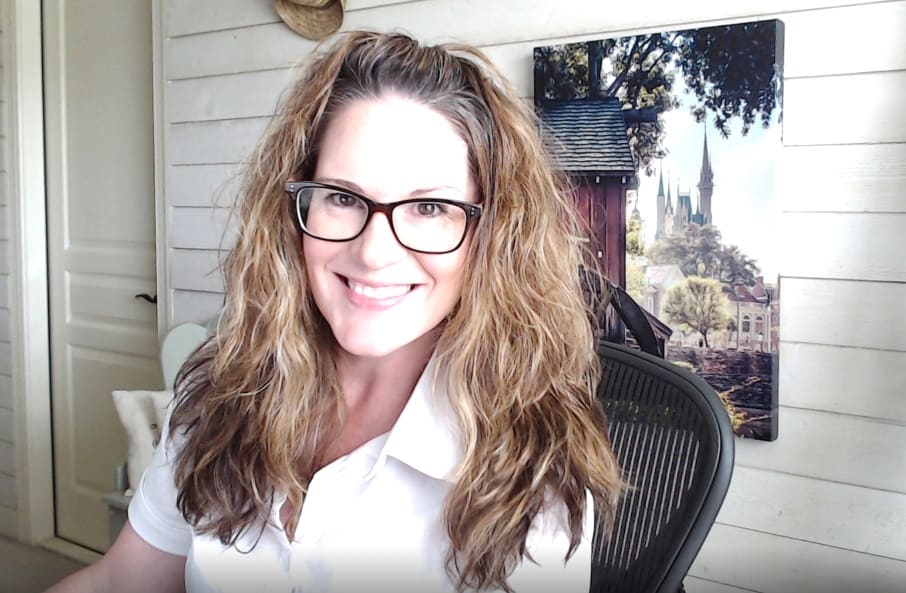 If You Found Yourself Nodding, You're in the Right Place
Inside Plussing It, using my 25+ year background in advertising, copy writing, marketing, and graphic design, combined with 10 years as a professional in the Disney travel planning industry, I not only teach you exactly how to do it, I DO IT FOR YOU!
If you are feeling overwhelmed and in over your head. If you are worried you are going to fail at your dream job. If you really are dedicated to being a successful Disney travel professional and growing your client list, Plussing It is a game changer.
High quality images, engagement inducing copy, business and relationship building techniques, branding 101, sales and growth strategies and so much more, each and every month.
Walt Disney himself often called upon his team to "plus it", or make a project even greater. It's this philosophy that the Plussing It Membership was built upon. Take your Disney travel business to the next level with Plussing It!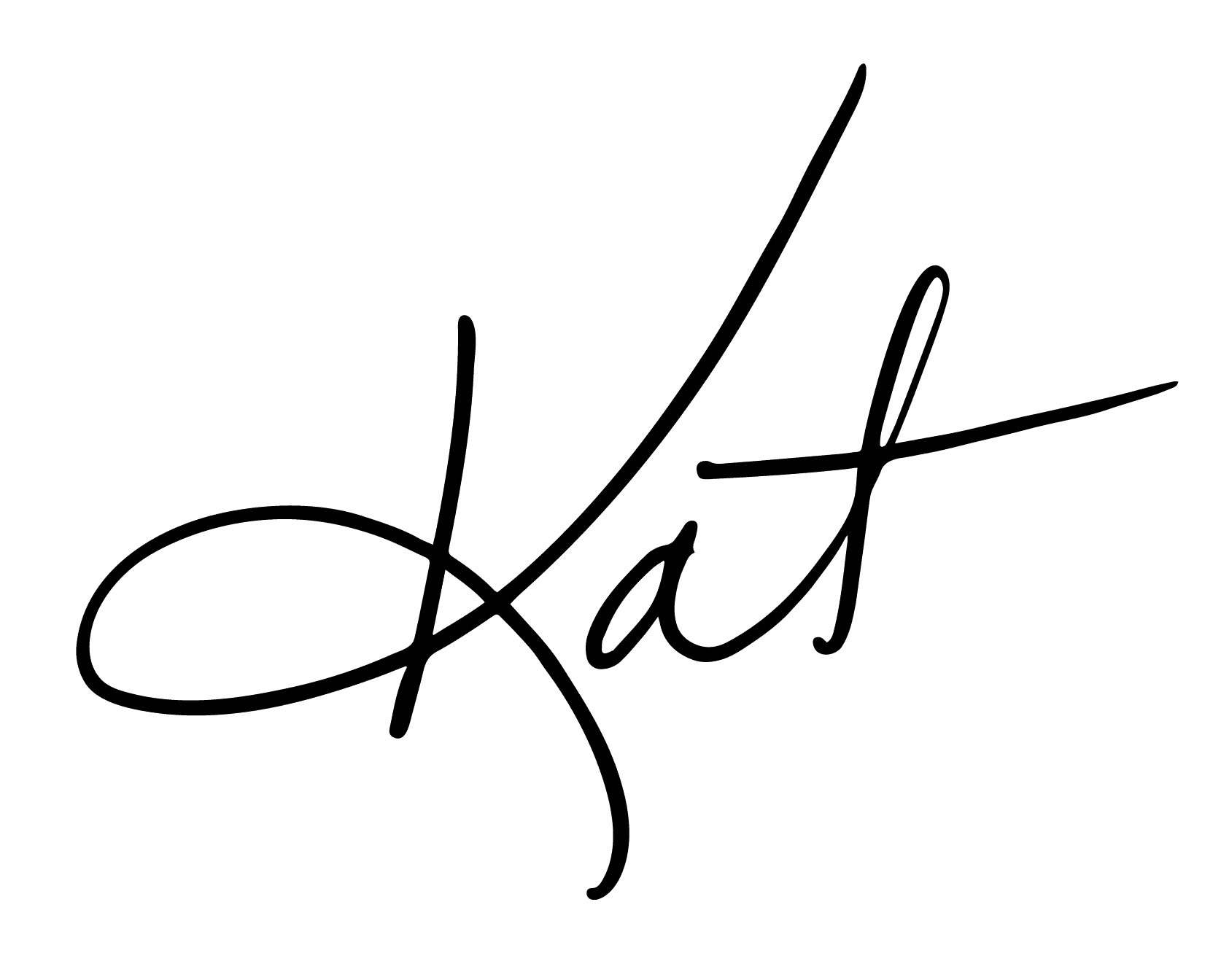 Join Now to Gain Access to the Best Kept Business-building Secret Exclusively for Travel Agents Specializing in Disney and Universal Destinations!
Grow your Disney travel business by leaps and bounds with strategic marketing, relationship and trust building methods, list building techniques and DONE-FOR-YOU content.
Join monthly to receive new content delivered every month. The initial payment of $97 includes the three months of content immediately available!
Choose an Annual Membership and save the $97 one-time payment! Includes three months of content immediately available PLUS new content delivered monthly.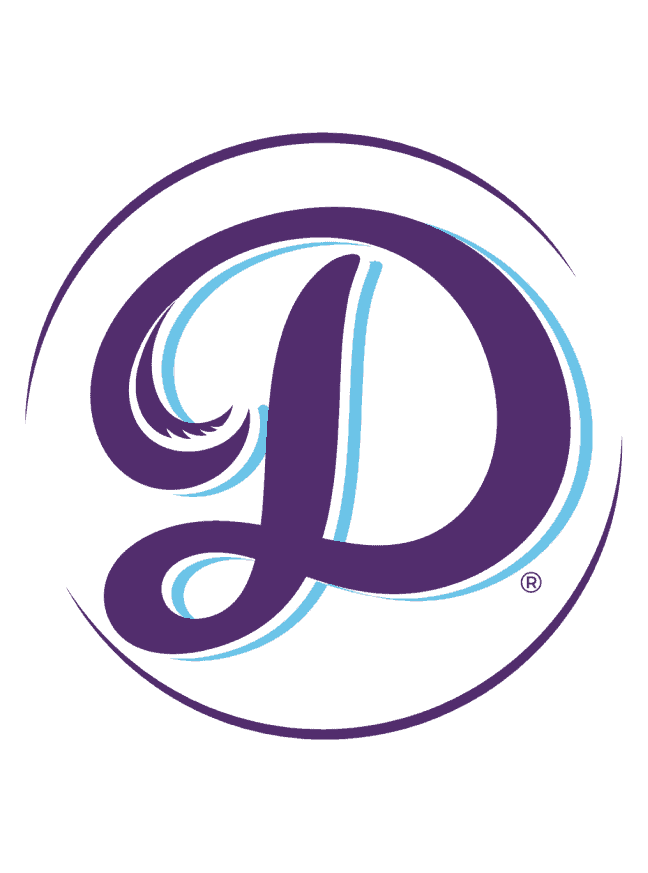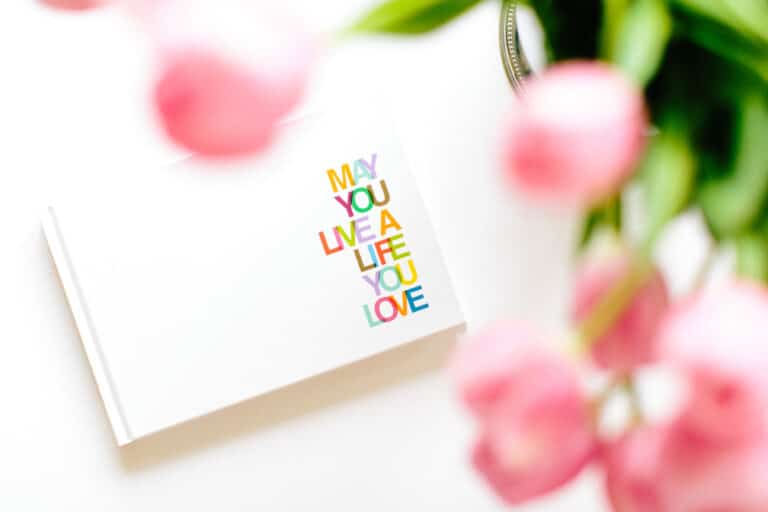 In the hustle and bustle of our daily lives, where responsibilities often take center stage, there's something undeniably magical about dedicating time to do something purely for yourself. Imagine, for just a second, that your
View Post